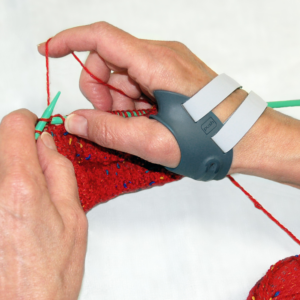 The author of Knitting Comfortably said: " knitting connects me to my whole brain by allowing me to exercise my creative hemisphere and requiring that I analyze, calculate and articulate the design so it can be manifested through yarn and needles by myself and by others."
I on the other hand, have only completed 2 knitting projects in my lifetime – a sweater too long and bulky to ever wear outside of the house and a scarf using eyelash yarn to make it fuzzy and faster. But it became an emotional art project when I tried to focus on knitting while watching my mom fade away with pancreatic cancer, but still having a sense of humor when I had to unravel yet another row of dropped stitches. Needless to say, the yarn and large gauge needles are still in my craft room with all the tears it collected that spring!
So, I am writing this in the capacity of a hand therapist, not a knitter.
My clients are always surprised when they learn that their injuries may be caused by something as "non-athletic" as knitting. The injuries happen over time from an accumulation of forces on the smaller finger joints (most often the base joint of the thumb). And Repetitive Strain Injuries (RSI) isn't caused just by the work your body does to knit, but also by all the other times you are in the same position, moving in a similar movement pattern.
There are a myriad of reasons for painful hands when you knit or crochet, and I will name the top 5 I see in a hand therapy clinic:
Tendonitis – inflammation of a tendon, the structure that connects muscle to bone. They travel within a sheath and could have stress / tension when you hold onto items for a prolonged period of time. This increases pressure within the sheath and you could have a burning type of pain on the thumb side of your wrist.
Nerve compression eg. Carpal tunnel symptoms – The roof of the carpal tunnel is formed by the wrist bones and floor a band of tissues between the bases of thumb and little finger. The space could get confined and most tendon ("ropes") move dynamically through there as we move our hand.
Thumb joint might "slide", leading to cartilage eroding at a faster pace. That leads to a "grinding" feeling or "clunk" in the base of thumb joint and abnormal position (often the thumb looks like a letter "Z")
Deconditioning: we don't move much when we get so involved in a knitting project and our circulation is compromised. Muscle have less blood supply to help with regeneration of stressed tissues and we might feel we need to grip tighter.
Poor posture that leads to shoulder / elbow / wrist pain – if we don't support our trunk / back, we might compensate in other ways (turning wrist in or gripping harder). The loss of range of motion impacts our posture and ultimately our function.
I was introduced to a wonderful resource by a client who was both a dentist and an avid Knitter. The book is called: Knitting Comfortably – The ergonomics of handknitting by Carson Demers. Worth putting on your Christmas list.
A thorough evaluation by a hand therapist is recommended to assess your specific challenges. You can go to https://www.htcc.org/ to find a specialist near you.
Self Care Recommendations could include:
Take frequent breaks from knitting (set your timer for 20 min) and walk away / change to another task eg. Cleaning / folding laundry/ reading with book on your lap.
Take a quick 10 minute walk before you sit down to knit (for increased blood flow)
Ask your therapist to evaluate you for The Push MetaGrip – The Push MetaGrip provides a custom fit contoured to your hand for comfortable, all-day, pain-free wear.
The brace can be worn under a glove, resists abrasion and does not impede the movement of other joints. Latex-free, waterproof, and able to withstand heat, the brace is durable enough to be machine-washed on the gentle cycle and can be worn during a wide variety of activities.
If you If you have thumb CMC osteoarthritis that has progressed to significant subluxation (a large bony bump at the base of your thumb), the MetaGrip will not be able to fit properly. Additionally, normal thumb muscle mass is required for ideal fit and function, so those lacking normal thumb muscle bulk may experience inadequate stabilization. A softer thumb support could be helpful to provide stability by the wrap around loop that supports your thumb joint (the base / CMC joint). The neoprene splint will also provide neutral heat that helps with pain.
Here is a link for the Comfort Cool CMC restriction splint – https://www.globalreachotpt.com/store/#!/Comfort-Cool%C2%AE-Thumb-CMC-Restriction-Splint/p/41269857/category=11065701
For more stretching suggestion or medical information, contact us at:  
https://tinyurl.com/mr35zyka
Written by Magdalena Panscik, OTR/L,CHT – Sacramento California
Certified Hand Therapist at Global Reach OT & PT